T.L. Sherwood Reviews "Hoopty Time Machines: fairy tales for grown ups" by Christopher DeWan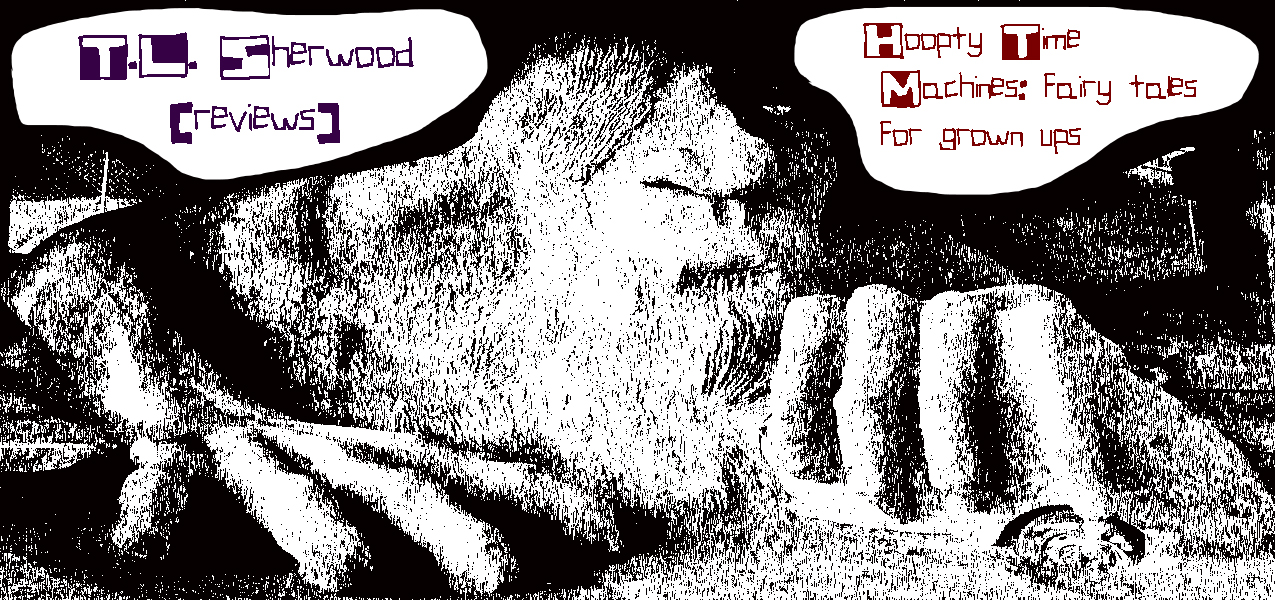 Christopher DeWan's Hoopty Time Machines: fairy tales for grown ups, is a collection of 45 stories of various lengths and bold choices. The book starts off with a micro, the second story is told in the second person, and by the third story, "The Atheist of Dekalb Street," you'll be charmed.
Of particular note, "Goldilocks and the Three Boys" is rich in fairy tale allusions and clever lines that sum up the ennui and the post college-graduation letdown one feels when the real world is not as easy to bear as one would hope. It's followed by "The Changeling," a character that's so beautifully wrought you want to hug him. "Voodoo" is slick with its take on teenage rebellion and "Social Media" comes next with a sick and smug reaction to an all too common issue these days. Reading it, I wondered if it isn't prescient. I know I'll be searching Twitter for the hashtag "stacy" though by the time it happens, it will be a different girl's name.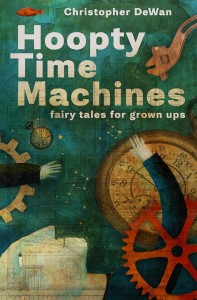 "Trolls," one of the longest stories in this collection is wonderful for its notions about parents and the morphing people go through as they age. "The Bundle" left me a little cold and when I read "Blog of the Last Man on Earth," I couldn't stop wondering why there was no mention of animals. "Zeno's Archers," "Indestructible," "Renewal," and "The Tired End of the Party" are all extremely short, but their impact is great. "The Signal," for its exquisite take on the pattern humans treat the "other," going from skeptical, to delight, then disenchantment and destructive habits is probably my favorite, though "Rapunzel's Tangles" is so deft at describing marriage issues that it niggles itself up to a tie for first place.
I had one minor issue with this book, but at the time, it was major and I set the book down pissed and walked away. It wasn't Christopher DeWan or his writing; it was me and the Kindle I read it on. As the first story in the collection, "Conestoga Wagon" is a witty little paragraph long, and the stories that followed it were of different lengths, I only read the first section of "Intrusion" which described a stressful sexual encounter. Thinking that was the entirety, I was turned off and let the book drain battery power for days. Being the dedicated reviewer I am, I did go back. I was grateful to find that was not the whole story, and "Intrusion" is actually one of the best in the book. I wanted to call the unnamed narrator and say, "It's okay. It wasn't all your fault." I think any writer that can take a reader from agitated to empathetic in one story has incredible talent.
As an added bonus, there is a section in the back called "Notes and Origin Myths." I'm generally not a fan of back-of-the-book sections, but these were well worth the read. Hoopty Time Machines  is being published by Atticus Press and will be released in September 2016.  You can pre-order it here.

Photograph in banner cited from: Esther Lee (flickr)
Edited by Literary Orphans
Book cover image cited from: Itasca Books