T.L. Sherwood Interviews Susan Tepper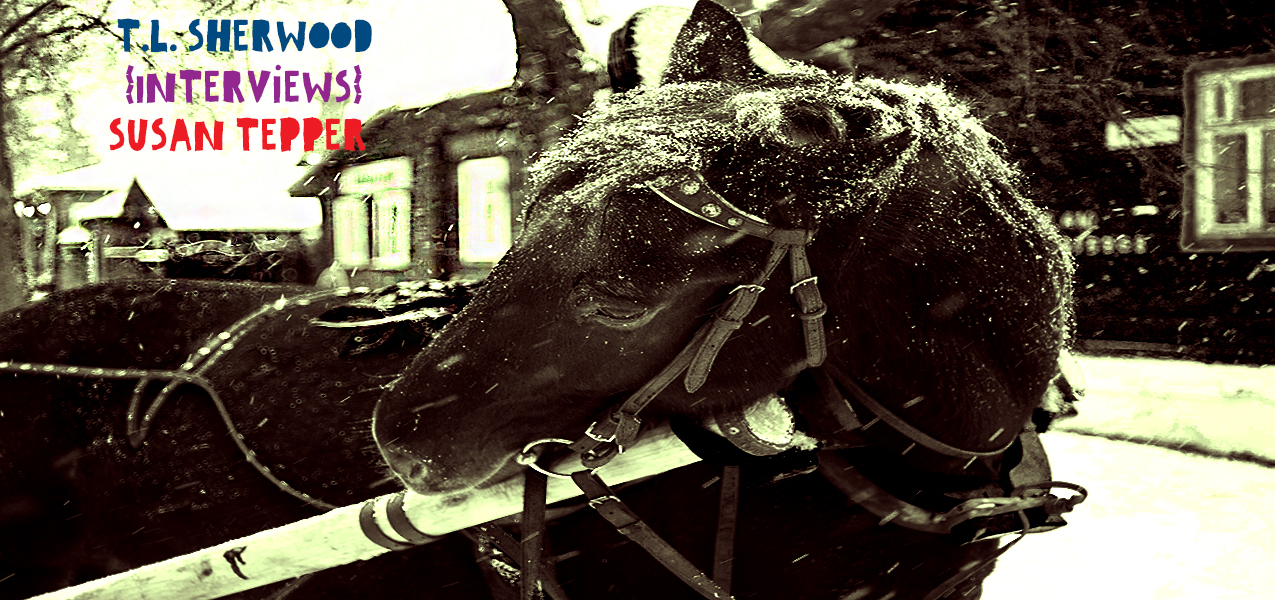 It's exciting to have your work nominated for honors, and it's even better when you're genuinely rooting for your competition to win even if you don't. It's like having two horses in the race for the price of a single bet. And while there are no sure things in the racing world, I bet you'll enjoy Dear Petrov, Susan Tepper's new book due out from Pure Slush on Groundhog Day this year. I recently had the opportunity to talk with Susan about her life and work.
---
T.L. Sherwood: Hi Susan! So, what are your ideal writing conditions, and where and when do you normally write?
Susan Tepper: I generally write at home. For a while I was living in London, so that was a bit more on-the-fly writing. At home I fixed up a spare downstairs room, just 9 X 9, that had become a junk room. I wrote about four books in it when it was filled with junk. I just worked around all the mess and didn't really notice. Then one day, I don't know, I had a garbage epiphany and began throwing all the accumulated old MS papers into big trash bags. The place looked so good cleaned up that I bought a red leather computer chair and this cool aqua "cage" thing where I store my books. I'm happy in the space. In fact I'm here right now talking to you, Tammy!
TLS: It sounds like a gorgeous spot. I should take a lesson and toss my old MS papers, but I'm convinced there's a great line in them. Somewhere. Or a great character. Speaking of which, how did the character of Petrov come to you?
ST: Each time I sit down to write, which is nearly every day, I come empty to the screen. The first words that hit my brain are typed. I don't believe I was reading any Russian literature then. I was reading James Baldwin most of the summer. But while I was an actress, I did several Chekhov plays, so the older Russian sensibility, their lives and times were something I experienced onstage. I was a method actor and you live with your character imbedded in you during the life of the play. So I guess on that particular writing day, my subconscious mind dredged up this Petrov character, a Russian soldier fighting a war, late 19th Century, and the woman left behind who loves him.
TLS: Are you still acting?
ST: Not acting. My last play was over a decade ago. It's an exhausting thing, acting, and you can't write and act. I was way into writing by then and I like it better. My own words. More fun. And you don't have to show up every night and for two matinees!
TLS: The "Theater Bug" bites hard though! A lot of actors want to go on to direct, but you write, so I wonder if you've written any plays.
ST: I just wrote a play for the first time with the poet Dennis Mahagin. We did this amazing poem collaboration, and I had interviewed him. We're both musicians, too, so there is that bond. I think we were messaging back and forth and all of a sudden we were making "characters" and it took on a life of its own. It was so much fun, and then we realized we had a play. About 12 characters, set in L.A. It's comedy, a full length farce. We think it's pretty good, and we've been sending it around to various directors, theatre companies, etc.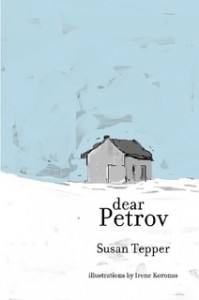 TLS: How exciting! You'll have to let me know when it gets produced. I think the last play I saw was Equus, which is no farce, but boy does it make you think and feel. In Dear Petrov, the narrator speaks often and affectionately about her horse. Did you grow up around horses?
ST: Yes, I grew up around many horses. And cows. We lived on Long Island when it was still fairly rural, lots of horse farms around. Also, my dad had a second job at the racetrack, so I met a lot of the jockeys and some famous horses, too. I rode bareback from a young age then graduated to the saddle! Horses are possibly the most spiritual of all the animals I've known. People who spend time around horses understand this. My sister had a horse named Chocolate Tina that I fell off [of] two years ago. My own stupidity. We were joking around and I fell off while dismounting.
TLS: Oh my gosh! Were you hurt?
ST: Oh yeah. My back was wrecked for over a year. Acupuncture saved me.
TLS: How awful, but thank God you found something that helped. I grew up around horses, too. Soon after Christopher Reeves had his accident, my step mom got thrown–and she was okay–but I've been leery of riding since then. Reading or hearing about other people's accidents makes me so queasy! I just read The Wild Truth by Carine McCandless, which lead me to reread Into the Wild. Chris McCandless didn't write a lot about his loneliness in Alaska, but it must have been like a companion to him. There is a lot of loneliness in these flashes, too.
ST: There is deep loneliness throughout this story. War is raging in Russia, and Petrov is mostly off fighting, so my female protagonist is generally alone, but for the company of her trusted horse. She lives a distance from the nearest town, out by a lake with a looming mountain. I think the book cover, painted so adroitly by Irene Koronas, reflects the solitude that almost functions as a fourth character. As for her horse, in a way it becomes a sort of surrogate lover. She rides him bareback through the house, his presence a consolation. She clings to her horse the way she clings to Petrov on the rare occasions they are together.
TLS: Was this the first time you worked with Irene Koronas?
ST: Worked with Irene, yes. But I've known Irene for quite a few years. She is the poetry editor at Wilderness House Literary Review, and I was fiction editor there for a while. I know Irene through Gloria Mindock. The Boston writers are terrific. They have this little coven of writers, and it's always so much fun to go up there and read and hang with that group.
TLS: I love Boston! And all of the writers there! I am so glad Alex Pruteanu encouraged me to attend AWP when it was held in Boston, and that my fabulous niece let me stay with her. I came back with thousands of ideas and the book fair! OMG! The creativity of publishers to entice you to pick up their book or magazine. Your book cover is gorgeous, by the way. It shows a house, which came across as a character, too. I think the flash, Decay captured that so well, as if it were a needy stepchild. While I was reading Dear Petrov, I marked my favorite stories to ask you about, but I ended up marking most of them, so I want to ask if you have a favorite in this collection. I know I'd be hard pressed to pick a single one, but do you have a top five?
ST: Wow. That's really hard. I see this as a whole rather than its parts. I actually like all of it (is it ok for me to say that?)

TLS: Spoken like a true lover of all her (literary) children. I saw on Facebook that you're working on a follow up to The Merrill Diaries. How is that going?
ST: It's going well. Once I'm finished with a book, I'm on to the next fairly quickly. Merrill is a part of me, she and I have traveled some of the same roads but naturally that book is very pumped because it's a work of fiction, and fiction has to keep moving and growing or the book dies. I like playing with Merrill. Just recently I found out I had a twin that died in the womb. I never knew this, yet all through my childhood I used to say I wish I had a twin sister.
TLS: How did you find that out?
ST: My mother told me there were two heartbeats, then one. Mine.
TLS: Whoa. And wow. Thank you so much for your time Susan, and good luck with the Best of the Net award and inclusion in Best Small Fictions. It's a privilege to be in the running with such a great and generous writer such as yourself.

Dear Petrov from Pure Slush
Photograph in banner cited from Kishjar? (flickr)
Edited by Literary Orphans