Ray Nessly Reviews Rift: Stories by Kathy Fish + Robert Vaughan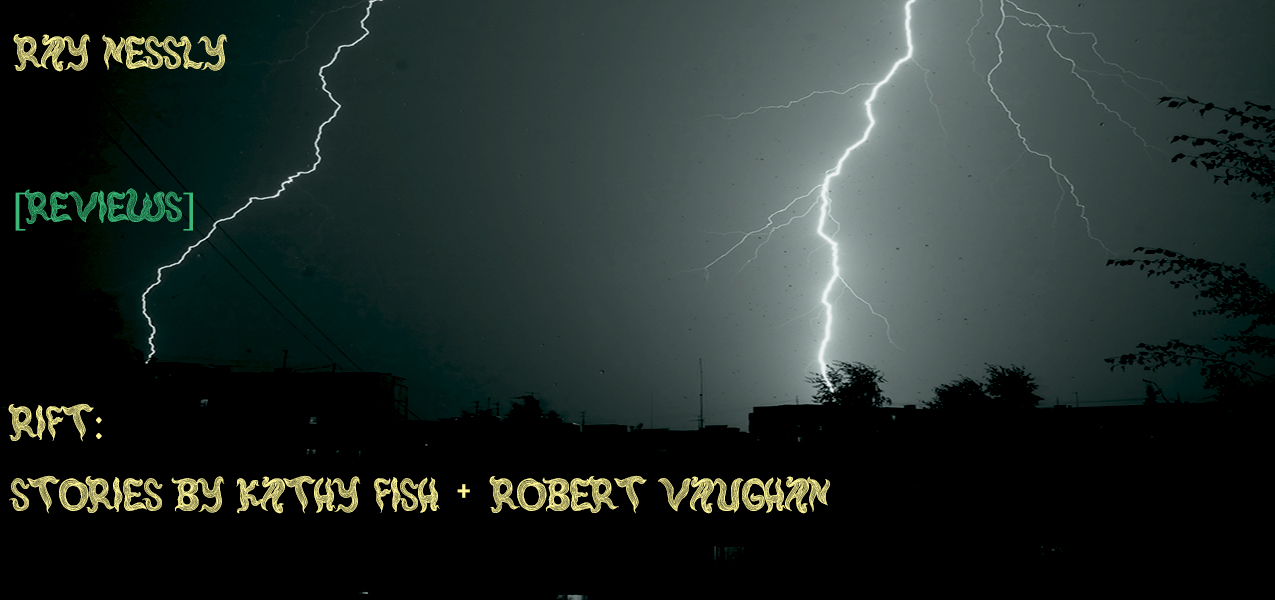 From the pens of Kathy Fish & Robert Vaughan comes Rift, a collection that is a must-add to the bookshelves of flash fiction fans. These are ultra-short stories, many under one page in length, with ample white space due to extra-spaced paragraphs and lines so narrow they can almost be taken in at a glance. White space is not only aesthetically pleasing but also gives these stories breathing room: an invitation to pause and reflect, for these are not stories to rush through.
Rift is arranged in sections that, like the title itself, are geological metaphors that suggest varying levels of human conflict: Fault; Tremor; Breach; Cataclysm. (Conflict being, of course, the one common ingredient to be found in all short stories. The successful ones anyway.) Like songwriters swapping songs, Fish & Vaughan take turns trading stories, seventy-five in all. They often are paired according to a shared keyword, theme, effect, or structure. As examples of common structure, several of the stories are divided into three parts. And the two stories that open the collection, "A Room With Many Small Beds" by Fish and "Galloping into the Future" by Vaughan, each have ten parts. "Room" begins with this haunting sentence:
I am eight years old and this is the year I learn to float.
And from there, Fish's story shifts into artful chaos, the narrator's recollections a dream-like sequence of arresting images. A dollar bill on fire. A woman, who, with her hair set in orange juice cans, looks like "a space alien or a sea creature." And the Virgin Mary, ascending to heaven, "wrapped in blue," the little girl alongside her, "suspended in clouds." Conflicts large and small abound: Bobby Kennedy is dead but so are the moths in the jar and so is the mother of the kid standing on the lawn. And the Johnny Mathis record is stuck on marshmallow, marshmallow, marshmallow, and meanwhile, the little girl hasn't had her dinner. Are these the narrator's memories? Dreams? Are memories akin to dreams, just as fluid and only barely more "real"?  As if anticipating the reader's questions, the tenth scene is declared a dream: of "an attic room with many small beds, but there are no little children to sleep in them." Note the story's title, echoed in its poignant, final line.
Next up, Vaughan. "Galloping into the Future" opens with the narrator sitting "flask out, in a bar in Gallup during a thunderstorm," subtly echoing the story's title in the first line and again at story's midpoint, section five, with its "galloping footsteps outside" that sound like "hundreds of cavalry, pummeling the hard packed earth." With evocative prose, the story figuratively gallops forward and back and to and fro in place and time, from New Mexico with its smell of "charcoaled flesh being served to hungry bale-throwing hands," to Paris, "after an unsuccessful evening at a brothel" and crossing paths with "an ever-zealous Edward VII on late summer nights," and back to Gallup, the narrator musing about the ladies in view: "It was as if I were in their movie, and they, in mine. I ordered another whiskey to see what other liquids the evening might hold in store." On the roof, he and a woman watch the stars as bullets whiz past them, "and we stared into each other's eyes like statues." The metaphoric perspectives of statues and film characters are additional levels of alternate reality above and beyond the giant shifts between centuries and continents. As with Fish's story, we again wonder: Where does reality begin and end in this narrator's world? Vaughan's last line answers this by giving us an image so compelling that both the reader and narrator want badly that it be true. "I bolted up, was it all a dream? No, there was her scarf, fluttering against the wood shingles." Thus, as if in counterpoint to the dream that ends Fish's story, this line pulls these stories together, like magnetic jigsaw pieces, and makes a whole that is somehow greater than its already impressive parts.
A juggernaut of images, dramas, questions to ponder…and that's just the first two stories. There are many, many standouts like these in Rift, too many to list. But limiting myself to three more by each author, I took an immediate shine to Kathy Fish's "Birth of the Giant Sand Babe", with its quirky humor and statements that are hard to argue with: "It's hard to be at one with nature because Zach won't shut up about the Siamese twins he saw at 7-Eleven back when he was working there." In "Collection Day," possessions are discarded one by one, including food, leading to an inevitable yet surprising conclusion. "Strings," with prose remindful of the great Annie Proulx, is a mini-drama set on a family farm, packed with confrontation, hormones, and menace; and above it all, kites, their strings decorated with streamers torn from the local paper headlines: Local Boy Bowls 7-10 Split!
For his part, Robert Vaughan impresses with "What Lies Ahead," a tour-de-force, one-sentence story that is a masterful example of the form. In "Dehydration," a lifetime of emotional pain and regret is condensed into two pages. And throughout "Adrift," metaphoric prose dazzles: "And this stilted house is a farce, waiting for the ocean to claim us both, plummeted onto glaciers that no longer exist," the house a raft that drifts to Siberia, where "trying to warm our bones by the lone fire pit, we translate Rasputin into our native Tahltan."
Tahltan, it turns out, is a northwest coast native language with only thirty-some speakers. Thus, as with many of the stories in this collection, we are left happily imagining the characters' untold backstories. After all, flash fiction is as much about "What's Left Unsaid"—to borrow one of the titles in this book—as it is about the words on the page. Simply put, Rift is a collection of stellar examples of an infinitely variable art form, by two writers at the top of their game.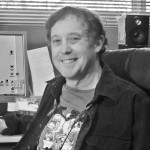 Ray Nessly hails from Seattle and lives near San Diego with his wife and their two cats. He is forever at work on a novel: If A Machine Lands In The Forest. His work has been published in Literary Orphans, Thrice Fiction, Boston Literary Magazine, Apocrypha & Abstractions, MadHat Lit, Yellow Mama, Do Some Damage, and other places.
Photograph in banner cited from Daniil Ulanov  (flickr)
Edited by Literary Orphans