Our Trip to the American Writers Museum

We recently were given the opportunity to explore the brand new American Writers Museum in downtown Chicago! Read our write-up below.
---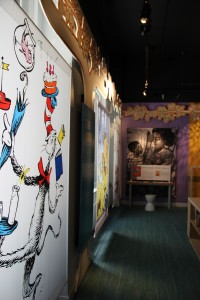 In the 1930s and 40s, Chicago was known as a major hub for publishing. From book binderies to publishing companies, this Midwestern goliath was known for producing great contributions to Literature. While the publication industry has certainly evolved much since those bygone decades, Chicago remains a city committed to creating and inspiring the next generation of writers, poets, and artists. We see it at the many festivals, like the Printers Row Lit Fest, that draw massive crowds to the city every year.
On May 16, 2017, the vision for Chicago's future commitment to Literature came to fruition. The American Writers Museum officially opened its doors to the public, and a seven-year project achieved what 25+ visionaries have tirelessly worked to create.
The American Writers Museum is the first and only one of its kind to celebrate American Literature in all of its various forms. It's an institution wholly dedicated to language and the guiding hand language has had in shaping our American society.
"It's not a library," Founding Board Member Hill Hammock says. It's a communal resource, one with the goal "to engage and not specifically have books on the shelves."
Housed in this museum in the heart of Chicago's downtown are a great many exhibits meant to educate, inspire, mesmerize, and provide meaning to visitors. One of the first exhibits is a massive timeline that tethers great works in American literature to history, providing context to how society impacted Literature and vice versa. It tells our story of civilization, through both literary works and historical events. Other exhibits include the famous scroll upon which Jack Kerouac wrote his novella, On The Road, as well as rooms that feature interactive games, writer-inspired works of art, famous local authors, and of course, a writers' room.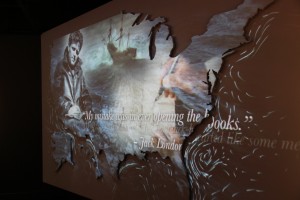 The writers' room is exciting in that it's a designated place for visitors to sit down and reflect. There's a story wall for hanging up completed works, and there are tools, such as pens, paper, and typewriters, for visitors to create with. Right next to the writers' room is a lounge where visitors can pick up one of the many books on the shelves and sit down on a couch to read. This lounge also serves as a venue for readings, presentations, and other events on the museum's already busy calendar.
What's truly inspiring about the American Writers Museum is its unique design, as well as the way visitors interact with the various rooms. Each room brings a different feel, using state-of-the-art equipment that demands visitors approach each exhibit from different angles. To get the full experience, one really has to meditate on the presentation and explore. As Hammock said, this isn't a library. The American Writers Museum aims to be so much more.
For more information on the American Writers Museum, please visit americanwritersmuseum.org.