Interview with Nathaniel Tower, Editor & Founder of Bartleby Snopes
Recently I had the pleasure of interviewing author/editor/all-around interesting guy Nathaniel Tower. As a publications student, I wanted to obtain advice from a seasoned pro, aiming to share that knowledge with other aspiring publishers and literary friends in general.
Nathaniel Tower is the founding and managing editor of Bartleby Snopes Literary Magazine and Press (www.barteblysnopes.com). His short fiction has appeared in over 200 online and print journals. In 2014, his collection of surreal fiction, Nagging Wives, Foolish Husbands, was released by Martian Lit.
Read the interview below!
Laura Rojas, Associate Publisher
* * *
Laura Rojas: As a freshly-turned 20 year old, I'm starting to think more seriously about my career and working within the publishing industry has always been pretty high up there for me. What sort of advice would you give a student who's trying to make it in the business? Where should they get started? What are some things you've learned not to do when it comes to publishing and contacting different outlets?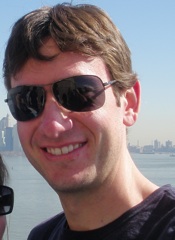 Nathaniel Tower: First I would recommend you clearly define your goals. What exactly do you mean by "making it in the business"? Have an idea of where you want to go before you start the publishing journey. Are you willing to give away your writing just for exposure? Do you want this to be a career or something you do on the side? There are no right or wrong answers to these questions, but you do need to be honest with yourself. If you are targeting non-paying publications, you can't expect to be a best-selling author within a few years. Truthfully, you should probably never expect to be a best-selling author.
In terms of what not to do, I would say the most important thing is not to do anything in a hurry. Don't send out that story without re-reading and rewriting it a dozen times. Don't send it out to the first place you hear about. Take your time with every decision. My fiction has been published in over 200 venues, but looking back at my "career" thus far, I would much rather have fewer total publications and more high quality ones. There isn't a way to quantify it. You could never say that a dozen unknown acceptances is the equivalent to one big-time publication.
LR: What would you say is the most important part about self-publishing?
NT: I have never personally gone down the self-publishing path. I think it can be a great tool, but it takes a much bigger time commitment than publishing through a press. In publishing, there is no such thing as "write it and they will come." If you are self-publishing, you need to have an arsenal of marketing techniques ready to go. The same is true with small press publishing, but the battle is even bigger with self-publishing. If you decide to self-publish, you need to be prepared to take criticism ("Self-publishing is the easy way to go").
LR: I read excerpts of your 2014 release 'Nagging Wives, Foolish Husbands' and absolutely loved the cleverness of it. The entire collection is made up of occurrences so silly that they make complete sense. How do you come up with such surreal plots and characters? Where does that inspiration stem from?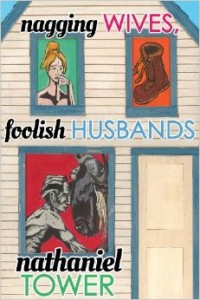 NT: Life is full of surreal moments. Read the news and you'll find so many things that will make you say, "You can't make this stuff up." Truthfully though, the inspiration comes from mundane everyday occurrences. My story "The Oaten Hands" is the perfect example. In the story, a young man has to come to terms with the fact that he was born with hands made of oats. The idea for this story came to me when a piece of granola bar got stuck to my hands. I'm always looking for a "what-if" moment.
LR: How different has the experience been regarding the three books you've published? Was it easier the third time around?
NT: This has definitely been the easiest publishing experience. The first two books were e-book only, and I think they both came out when many people were still skeptical of the whole e-book craze. At the time, I even wondered why anyone would pay money for something that isn't really tangible. My expectations were also unreal. I figured everyone I knew would buy a copy, and I expected the publisher to market like crazy. I learned quickly that their job was to put it out with their name on it, and my job was to sell it. When Nagging Wives came out, I knew more what to expect.
LR: As a writer who both edits an online journal and publishes books via the web, what's your take on the e-book vs physical book dispute? Do you find there's advantages to one that the other does not have? Which one is your format of choice?
NT: Is there still a dispute? Other than a few diehards, I think the literary world has accepted both entities. As I mentioned before, I was skeptical of e-books at first. The idea of paying for something that isn't real bugged me. I wanted the book in hand, to be able to turn the pages. Now, I love e-books. I can take a whole collection with me wherever I go. I don't have to worry about as much clutter in my house. Still, if it's a book I love, I'd rather have it in print than sitting on a device. My main complaint with e-books is that I'm much more likely to skim.
LR: The online literary community is fantastic. It brings readers and writers of all ages and locations together in a major way. What's the best experience you've had by being a part of it?
NT: I've had so many great experiences as a member of the literary community. The support we show each other is indeed fantastic. We buy and promote each other, we critique each other, we help each other out. The best experience was when one of my writer friends was going through some financial hardships. I helped organize a benefit anthology for him, and the outpouring of donations was overwhelming. It was the type of thing that wouldn't have been possible ten years ago.
LR: Apart from being a published author, you also founded Bartleby Snopes back in 2008 and it received a mention as one of Flavorwire's '10 Online Lit Mags You Should Be Reading' in 2010. What's your favourite part about being the managing editor? What would you say makes Bartleby Snopes so unlike other online lit journals?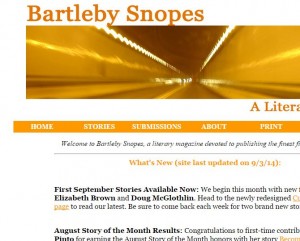 NT: My favorite part about managing an online journal is getting to read so much variety. As a writer, I think most of my growth is a result of reading so many different pieces. Prior to managing Bartleby Snopes, my reading was much more one-dimensional. You can't learn how to be a great writer by only reading the greatest writers ever.
Originally, I think Bartleby Snopes was unlike many other online lit journals because we sent personal response to all writers within a week. It seems like more magazines are doing this now, but it still puts us in the minority. Today, I think our main unique factor is our transparency. We don't have anything to hide about our submission or editorial process. We're not trying to keep anything from our readers.
LR: Do you have any strange writing rituals that nobody knows about?
NT: I sometimes write on scraps of paper while I'm driving. Other than that, I think my rituals are pretty boring and not very ritualistic.
LR: What is something that has played a vital role in your life and allowed you to become the writer you are? Was there ever a moment when it hit you and you said 'this is what I want to do'?
NT: Unfortunately, I have no inspirational stories that explain the origins of my writing. It's just something I've always enjoyed doing. I'm not sure I've truly hit the point where "writing is what I want to do" with my life. I don't think I've lived an interesting enough life for that to have happened yet. Some day.
LR: Now completely unrelated to literature: apart from being a writer, editor, and working in the field of internet marketing, you also have a knack for juggling. Tell us more about that! When did your interest for juggling start?
NT: The start of my juggling is rather boring. Juggling by itself is actually pretty boring, especially for the audience. Sure, people are impressed when you say you can juggle, but when you actually start doing it, it only holds someone's attention for a few seconds. I think that's why I've gotten into other things like joggling (running and juggling at the same time) and juggling fitness (juggling while doing sit ups, squats, etc.). That keeps it interesting. And if a hobby isn't interesting, why do it? Which takes us back to writing surreal stories…
Nathaniel resides in Minneapolis where he spends his days as an Internet marketer. Visit him at nathanieltower.wordpress.com.