Home Made Woman by Meg Tuite

Mom clung to the hamhocks of a smack-mouthed infantry of a man and all the kitchen utensils for over fifty years. She baked pies, cakes, cookies, casseroles, broiled chops, steaks, turkeys, and bacon while his face and ass blew out the windows, the children, the TV.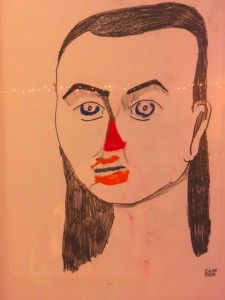 Rose-scented and silent, she cooked and heaped plates; kept family from expecting anything more than a second helping from her trembling hands and lips. Dad's jaws were wrenches, screwdrivers, drill bits, shears, bottle-openers. They unhinged, turned, flipped, severed, chiseled through, blasted foundations, and stifled oxygen.
The daughters grew up fat with fear. Winds battered inside them every time Dad slithered into rooms grinding his sour stench into their soft folds, while Mom dissolved into the ingredients. Bent as far away from Dad until brittle enough to crack–Mom and the girls had a knack for burning and cutting the underbelly of things.
The word 'mother' meant tepid, undercooked, bland. Her daughters took on the flapping pages of a history that walked ahead of itself while Mom cleaned and cooked. When they were kids they slumbered in single beds with wallpaper that cascaded some kind of Disney phantasmal parade of shackles. Beds were perilous as depression. They gazed into their father's pasty skin more often than the ceiling's scarred indents. Gnawing and gnashing asleep, had them in braces until their teeth grew together out of one prison.
When polyp's crowded through Dad's colon in a buffet of stuffed mushrooms; the rectum, lungs, liver, brain, and spinal cord had already saturated through the bloodstream in one creamy, rich sauce.
Mom was unconscious in bed one month after Dad died. The daughters sat for what clocks could never decipher and listened to the dying woman's open-mawed mouth gurgle in what sounded more like a pot simmering than words.
When the final breath steamed out of her, they witnessed the act of a body hardening into a slow freeze. Her eyes had long been fishhooked by other worlds.
The daughters picked at invisible stains, didn't know what to do or say. They searched through the back of her closet until they discovered a turquoise dress that flared out like their mother never did. They put the dress on her, carefully moving awkward, heavy limbs. Arms flopped and contorted without protest. This dead mother of the pseudo-living was finally transported from an artifice dicing onions, scraping bowls, forking piecrust edges, rolling dough, and stuffing turkeys.
They took turns spraying her decaying body in lavender water, but her orifices were open caverns of festering ulcers and release.
They studied a moldy old photo album. The woman in the photos wore a vapid smile and hair that wrapped around her head like overcooked noodles.
The dead woman in the turquoise dress had a translucent sheen to her skin. The bruises matched her outfit, spreading precious opalesque storms up to the surface. Her veined hands folded over each other.
"Look," said the younger daughter. "She isn't shaking anymore."
The older daughter studied the immobile limbs. A quake shuddered inside her.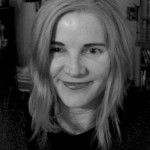 Meg Tuite is author of a novel-in-stories, Domestic Apparition (San Francisco Bay Press), a short story collection, Bound By Blue, (Sententia Books) and won the Twin Antlers Collaborative Poetry award from (Artistically Declined Press) for her poetry collection, Bare Bulbs Swinging, as well as four chapbooks of short fiction, flash, poetic prose, and multi-genre. She teaches at Santa Fe Community College, is a senior editor at Connotation Press and (b)OINK lit zine. Her work has been published in over 400 literary magazines and over fifteen anthologies including: Choose Wisely: 35 Women Up To No Good. She has been nominated nine times for the Pushcart Prize, won first and second place in Prick of the Spindle contest, five-time finalist at Glimmer Train, finalist of the Gertrude Stein award and Bristol Short Story Contest. She is also the editor of eight anthologies. Her blog: http://megtuite.com
Melting Man (Banner) by Christian Arthur
The Woman by Ted Taffe