Gay Degani Interviews Christopher Allen
---
Other Household Toxins
Christopher Allen Talks About His Collection
Interviewed by Gay Degani
Christopher Allen's collection, Other Household Toxins (Matter Press, 2017) embraces menace for the innocent boy, the innocent girl. In one of his stories, "A Practiced Silence," the narrator says, "Inside, Dad worries a tangled 3D collage: three tattered ladder-back chairs, a mildewed deflated yard Santa, a hard-plastic machete. He pulls out the knife, play-cuts off my head."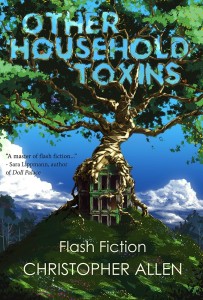 Ambiguity too: gender and relationship ambiguity, the doubt one feels about belonging to family, peers, the world in general. There are stories about gender issues with the incumbent guilt, stress, anger, and bafflement experienced by children and parents, as in "Birds in the Gate" where the main character says, "I wasn't good at being a boy, and now I wasn't good at being a mother either."
Many of the pieces in this collection are what might be called experimental, absurdist, or magic realism ("The Shoes, The Girl, & Waves that Washed Them Away") while others conform to more traditional form ("This Baring Daylight"). Some are heartbreaking, some humorous. All are beautifully written.
Gay Degani: First I'd like to ask you about theme. For me, the sense of alienation seemed to be central, how being different from "the norm" informs a main character's sense of security and wellbeing, and how those differences manifest themselves in behavior. I'm thinking about "Dothead," "22.0," and "What Strangers Do," specifically, but there are others. Can you talk about alienation and suggest other themes you feel are important in your work?
Christopher Allen: Thank you for asking such insightful questions, Gay. Alienation takes several forms in these stories. There's a young, gay kid that I'm trying to comfort or defend in some of them, and there's this relationship between a father and a son I'm trying to work through in a lot more. In general, the narrators who tell these stories feel alone. I've never really felt I belonged anywhere, and there's even a part of me that resists any feeling of belonging. In this respect, these stories expose me—and that's a bit scary.
There is another global theme in this collection: ambivalence towards death, maybe even a refusal to see death in its usual, tragic sort of way. Several of the stories subvert the finality of death, an easy fix with magic realism. I'd say more than half of the stories are to some extent about death. Yay.
GD: But it's not all doom-and-gloom. There is awareness in the characters too. One of my favorite segments is from "Dothead." The character, Andy, owns his nickname. He says, "They want you to believe it's all your fault. But it's not. It's not. We're just made this way." Many of your stories are positive and humorous. Which is easier for you, drama or humor?
CA: Humor. I believed for a long, long time that I was a humorist. I didn't plan to write all these depressing stories; they just came out naturally. I was going to be the next David Sedaris with one laugh-out-loud book after the other. Right now I'm in a place with my writing where I need to write about things that are dead serious. Funny is hard these days. I'm so angry and so disappointed with the world—so that's what I have to write now, even if it's difficult.
GD: I've read your novel, Conversations with S. Teri O'Type (a Satire), and it's funny so David Sedaris had better watch out. Humor or drama, your use of language elevates your work. In "Beyond the Fences," you write, "Ally was limping to first (the third pitch had clipped his hip). He'd never been on first before. It felt safe: plump as a tick, a communion wafer kissed with muddy cleat prints." This statement underlines the "menace" in so many of the stories. It's about baseball, but for me, it's also about fear and sex. Sex is the communion of one person with another, a defining moment. "First base" suggests a first sexual experience, perhaps a kiss; first base is clean and pure, like a "communion wafer." Can you talk about how you handle language when you are drafting a story?
CA: Thank you for explicating the imagery of frustrated sexuality in this story so spot-on, Gay. It's difficult to layer a 250-word story with a potent metaphor for coming out. The first editor I sent this story to said something like "I don't quite get it. It's so cute and entertaining but then ends so abruptly in death, like it goes from silly to devastating so quickly." But, you see, the editor did in fact understand the story perfectly. That's exactly how coming out is for a lot of gay men. Your world pivots the second you're outed. It feels like a death and a sudden rebirth. I was kind enough to give Ally a transcendent death after the shock of being abused on his innocent sexual journey, of being man-handled at second base, of being outed by a creepy "hetero" man while the other players look on. It is menacing and shocking and abrupt. Ally is that gay kid I keep trying to comfort and defend, maybe explain: Ally is definitely me.
But about language: No matter how short, I have to let stories develop over time. Ideas at the word and sentence levels occur to me erratically, on a mountain trail, at the gym, during a class. I've learned that I can't—or it's not in my best interest to—write a story quickly. Language needs time to expand beyond the usual. I find that my best writing happens when I allow myself to work through phrases and images organically.
A good example of this is the story "One for Rainbow." The line about "uncrucifying the door" bumped around my head for about a year before it found its place in this story. I hike a lot in Bavaria and South Tyrol, and there are a lot of stations-of-the-cross hikes. Hiking these backwards to me was like "uncrucifying" Christ. I just had to get that idea into my writing somewhere. A lot of my drafting happens when I'm walking.
I think we'd all benefit from giving our stories a few more months to expand and mature. At SmokeLong Quarterly, we get around 5000 submissions a year as you yourself know having been an SLQ editor for years. One of the most common reasons for rejection is that the story's idea and situation are great, but the idea lacks development or layering. "Too simply told" is a frequent comment. "Sounds like a story I've read a hundred times this year." "Parts of this are good, but some fall flat." Flash fiction doesn't allow much room for error, so we should allow more time for it to take shape.
GD: One of the most devastating pieces in your collection is "Target Practice." Given current events, I appreciated the way the story puts the spotlight on the problem of guns. Also there are four "German" stories that also have a political impact. Do you believe writers can bring about change and how important is that to you?
CA: I certainly believe artists can effect change. My first book, Conversations with S. Teri O'Type, was a satire on the social conditioning of gay men in the US. Attempting to change the way LGBT+ people allow themselves to be programmed by society is a big issue in my writing. We should be empowering ourselves to be strong individuals, not ghettoized grotesques of our sexuality, not stereotypes that entertain the world. I don't want to entertain the world; I want to change it. I also want to take naps in the middle of the day, so I guess I shouldn't let my answers wax too dramatic.
GD: You are very good with titles. They suggest, but don't give away the surprise of the story. One that particularly worked for is "The Ground Above My Feet," because it provides a clue to the story, but allows for that "AHA" moment all readers love. Do you find titles easy or difficult to create? Do you have any tricks to naming a story?
CA: Sadly, I have no tricks. At the moment, I have five stories submitted, one of which is submitted under three different titles because I decided after a few days that I didn't like the first (or second) title. It's actually a good exercise to see how the title of the piece affects the submission, I suppose. We should play more with titles. My story, "When Susan Died the First Time," was accepted by Indiana Review after being saved from the slush pile because of the title (I was told by one of the IR editors at AWP). Titles are your calling card. That said, at SmokeLong Quarterly if we love a story but hate the title, we'll just ask for a new title. A bad or boring title isn't a deal-breaker—at least not for us.
GD: Last question—the relationship between parent and child is often explored in this collection. It ties in with the desire to belong. There are a few that deal with fathers and sons, but one of my favorites is "Wile E." The comparison of the narrator with the cartoon coyote and his father to Road Runner is brilliant and underscores the ambiguity that a child often feels toward a parent. Would you call this piece experimental? I found several pieces that could fall under experimental, absurdist, and magic realism heading. Can you discuss the difference between these three kinds of writing?
CA: I'm most interested in explaining what I mean when I say I write absurdist fiction. The characters in an absurdist narrative may seek change, but don't find it. They may look silly or indulge in pointless philosophical arguments, circular behavior, and repetitive dialogue—but they're not just weird crazy characters doing silly shit. Absurdism asserts that there are no fixed standards of conduct that define us. An absurdist creates a world where meaningful communication fails. And nothing changes. To quote from Gordon Farrell's book, The Power of the Playwright's Vision: Blueprints for the Working Writer: "What defines the absurdist world is the underlying fear and anxiety of the characters—an existential terror that grows out of their meaningless isolation from the universe and from each other." I see this as one vision among many in my writing—as contradictory as that may sound. I see this in "Falling Man," "Providence," and "22.0". And I'm perfectly happy to accept elements in my fiction that subvert this. Some characters learn, but almost none of mine do. I'd like to think I'm able to learn, but I'm not that interested in presenting a narrative in which lessons are learned or characters grow.
Experimental writing is such an individual thing. What may be experimental for me might not be for you. I haven't written anything that's truly experimental. That's not true. I've written plenty of experimental stories. They're all in a folder on my computer—where they'll stay.
Many of my stories fall under the category of magic realism, especially when it comes to reinterpreting and reinventing death. As strange or innovative as these stories may seem, I don't think this type of writing is especially experimental. Magic realism injects the impossible into the everyday. I think we've been desensitized to this through film and fiction for quite a long time. I'm more interested in the use of surrealism to create narrative. And again, I'm not talking about crazy, weird stories; I mean dramatic surrealism: the startling juxtaposition of disparate words/objects/events, the rejection of clean and obvious metaphor, provoking imagery that attempts to transcend reality. I think this is the thread of menace you see—and I definitely see as well—that twines through these stories.
Thank you for these questions, Gay. You always ask the good ones.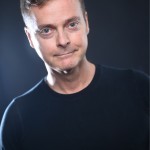 Christopher Allen's debut flash fiction collection, Other Household Toxins, is forthcoming from Matter Press. Allen's fiction has appeared or is forthcoming in [PANK], Indiana Review, Juked, FRiGG, The Journal of Compressed Creative Arts and others. Read his book reviews in Necessary Fiction, The Lit Pub, Fiction Southeast and others. In 2017 Allen was both a finalist (as translator) and semifinalist for The Best Small Fictions. He lives somewhere in Europe–for now–edits for SmokeLong Quarterly and is a contributing editor for The Best Small Fictions 2018.

Gay Degani is the author of a full-length collection of short stories, Rattle of Want (Pure Slush Press, 2015) and a suspense novel, What Came Before (Truth Serum Press, 2016). She's had four flash pieces nominated for Pushcart consideration and won the 11th Glass Woman Prize. She blogs at Words in Place.
Photograph in banner cited from: Kaarina Dillabough (flickr)
Edited by Literary Orphans