2016 Year End Top Ten: Series Two: Meg Tuite
Dear Reader,
With each subsequent issue of Literary Orphans Journal that's released, along with the creative nonfiction side of the journal's heartstrings you'll find here at The Tavern Lantern, we strive to connect a network of readers with meaningful literary voices. And since the end of each year is slow-burning, we seek to fill the journal's intricate spaces with a similar type of reflection. Below is the second installment of our 2016 Top Ten series. These lists are simple and meant to convey personally significant topics of the year from writers and editors we respect.
Let's read together.
Brittany Warren,
(Managing Editor)
---
Top Ten List of Authors to Read in 2017
Many outstanding top ten lists have been weeded out and dispersed with zeal every year. These winsome philosophical poets and truth-tellers of the pencil/pen/computer/feather, who one might have masturbated, vomited on or tilted a head at depending on the onlooker's stance, hold still and steady like a coin thrown into a fountain. Very unlike spitting or heaving into the political pond of 2017.
So, I felt charged to post a list of the top ten authors who make me happy and inspire in the wake of a racist, homophobic, rapist, sociopathic president who lives the statement that "orange is the new TANG", with his wispy strands of a comb-over synthetic cap that when lifted, might show the calcification of a brain, or merely a neon stone that marks uncharted territory.
Thank you to Brittany Warren and Literary Orphans for this opportunity to gather some of my favorites together.
These are in no specific order. I hope you will put all of them on your reading list, if you haven't already, and if you have or have not, please send out a book to someone you love!  These authors are not only masters of the language, but create unforgettable and mesmerizing characters that are timeless. Through their extensive research, relentless work ethic, and beauteous unveiling of the unconscious, each of these writers breathes life back into bodies long gone. The spirit of what walked this planet lives on in us and eternally through these voices. We realize there is no past that isn't our present. That is the gift. We live with and through these voices.
Toni Morrison:
Beloved
The Bluest Eye
Song of Solomon
God Help the Child
Sula
Home
Tar Baby
Claudia Rankine:
Citizen
Don't Let Me Be Lonely
The End of the Alphabet
Ta-Nehisi Coates:
Between the World and Me
The Beautiful Struggle: A Memoir
Lucia Berlin:
A Manual For Cleaning Women
Homesick
So Long
Where I Live Now
Show Me All Your Scars: True Stories of Living With Mental Illness
Anthology edited by Lee Gutkind
Tyehimba Jess:
OLIO
Lead Belly: poems
Lydia Yuknavitch:
The Chronology of Water
Dora: A Headcase
The Small Backs of Children
Women Write Resistance: poets resist gender violence
Anthology edited by Laura Madeline Wiseman
Maggie Nelson:
The Bluets
The Red Parts: Autobiography of a Trial
Shiner
The Argonauts
Janet Frame:
Owls Do Cry
The Edge of the Alphabet
Scented Gardens For the Blind
A State of Seige
An Autobiography
Faces in the Water
(and many more)
Any number is difficult, because every book read is absolutely necessary at the time. There is always something we take away when we pick one up. My advice is to read as much as you can and join Goodreads online. It's a great way to connect with other readers and find out what they recommend and have reviewed.
Here's to 2017 with lots of time to read and write and also time to connect with the unknown. Embrace it! Reach out! Be uncomfortable, listen, protect one another! LOVE!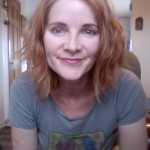 Meg Tuite is the author of two short story collections, Bound By Blue (2013, Sententia Books) and Domestic Apparition (2011, San Francisco Bay Press), and five chapbooks. She won the Twin Antlers Collaborative Poetry award from Artistically Declined Press for her poetry collection, Bare Bulbs Swinging (2014) written with Heather Fowler and Michelle Reale. She teaches at Santa Fe Community College, is fiction editor for Santa Fe Literary Review and a columnist at Connotation Press and JMWW. Her blog: http://megtuite.com