2016 Year End Top Ten: Series One: Alex Schumacher
Dear Reader,
With each subsequent issue of Literary Orphans Journal that's released, along with the creative nonfiction side of the journal's heartstrings you'll find here at The Tavern Lantern, we strive to connect a network of readers with meaningful literary voices. And since the end of each year is slow-burning, we seek to fill the journal's intricate spaces with a similar type of reflection. Below is the first installment of our 2016 Top Ten series. These lists are simple and meant to convey personally significant topics of the year from writers and editors we respect.
Let's read together.
Brittany Warren,
(Managing Editor)
---
Top Ten Diversions 2016
I am notorious amongst my peers and relatives for being stringently — some may say curmudgeonly — in opposition of anything with even the vaguest whiff of current trends. The novels, movies, music, comix, etc. I gravitate toward all seem to have the common unifying theme of originating in decades past. Having said that, I was humbled by Literary Orphan's invitation to provide my own top ten list of 2016. Seeing as it's been one hell of a year I decided to list some of my favorite getaway vehicles, in no particular order.
1. Netflix series Easy
While it may not be Netflix's best original series, Easy captivated my interest by deftly portraying the unfettered minutiae of everyday life and love. I am appreciative of the fact that there are no unnecessary fireworks or smoke and mirrors to be found. No illusions or spectacular misrepresentations of how relationships thrive, or at times come to an unexpected screeching halt. Life happens in the quiet moments. The subdued exchanges. The conversations tucked between the happenstance and bustle of this crazed world which are too commonly ignored onscreen. Easy gets that shit.
2. Backderf's The Baron of Prospect Avenue
This webcomic picks up immediately following the events depicted in Derf's 2010 graphic novel Punk Rock and Trailer Parks. Through regularly updated installments on www.derfcity.com, the further adventures of the protagonist Otto unfold as he makes his way through the punk rock scene and cultural landscape of the early '80s. The main attractions for me are Derf's inimitable style as well as his no bullshit approach to dialogue and storytelling. Appearances from icons like Lester Bangs and The Ramones sure doesn't hurt either.
3. Nevermind turns 25
I'm not sure I have ever experienced more of a geriatric moment than when the quarter of a century anniversary for Nirvana's Nevermind arrived. Though In Utero is by far my favorite Nirvana effort, Nevermind was an unequivocal milestone of my adolescence and was even one of the inspirations behind my own (unsuccessful) foray into performing music. On the album's anniversary I found the blistering track list on heavy rotation. Standout tunes for me are "Drain You" and "Lithium", but there remains to be a haunting comfort in that opening riff of "Smells Like Teen Spirit". It's still fun to lose and to pretend…
4. Switched on Pop! Podcast
I never actively dove into the plethora of podcasts available until my wife introduced me to a number of fantastic shows. One of, if not my favorite of the podcasts introduced was Switched On Pop!. Hosted by musicologist Nate Sloan and songwriter Charlie Harding the show seeks to break down pop songs to figure out what makes them tick. Sloan and Harding dissect their selections in a manner anyone can follow. One of the aspects I enjoy the most is the fluid, conversational tone in which the two longtime friends conduct their analysis. Thus far I found the most entertaining episode to be the one which revolves around auto-tuning entitled "Pop Drops and Chipmunk Soul".
5. Kate McKinnon
Saturday Night Live hasn't truly exhibited exceptional comedy since its inception in the '70s. Others'opinions may differ, but my impression is the overall quality of the writing spanning the past few decades has been uneven at best. Aside from the flimsy gags and torturously prolonged sketches there have been a handful of breakout talents. One such talent deserving of much wider recognition and acclaim is Kate McKinnon. Her subtle deliveries and comedic timing upstage anyone unfortunate enough to share screen time with her. I for one believe that what the world needs at this juncture is a Kate McKinnon variety show.
6. Bridge School Benefit 30thAnniversary
Every October the Bridge School Benefit Concert converges upon the gently sloped hills of the Shoreline Amphitheater in Mountain View, CA. The Bridge School is a non-profit organization whose mission is to ensure that individuals with severe impairments achieve full participation in their communities. The lineup rotates annually releasing the schedule just weeks before show time. This year marked three decades of shows, treating those of us in attendance to acoustic sets by the likes of Nora Jones, Willie Nelson, Metallica, and one of the concerts organizer Neil Young. I spent an entire evening with my wife and in-laws being transported far from the election gridlock on waves of mellifluous performances. Substance ingestion is encouraged, though not necessary for full immersion.
7. The Cartoon Art Museum
The Cartoon Art Museum has been in operation since 1987, but 2016 decided to throw them a curveball. In April they were uprooted by the gentrification which has been pummeling the San Francisco creative scene for some time and forced to relocate. The odds were looking dicey until a new permanent home on Beach Street close to Ghirardelli Square was announced in November. They are set to reopen in spring of 2017 and I highly recommend a visit to anyone with even the slightest affinity for comics, animation, etc. I spent many a care-free afternoon or evening at the museum as volunteer, and even served as cartoonist-in-residence a time or two. The Cartoon Art Museum is not only an integral non-profit organization promoting literacy and the arts. They also make it a point to support and promote cartoonists at any level, regardless of the size of their oeuvre.
8. Sturgill Simpson's A Sailor's Guide To Earth
I loved Sturgill Simpson's first two albums as they were beacons for the classic country fans wading through the bro-country sludge currently clogging the airwaves. To say the album was a bit of a departure is an understatement, though this is by no means detrimental to my listening experience. Simpson shines on songs such as the funk-tinged "Keep it Between the Lines" and the slow-burn reimagining of Nirvana's "In Bloom". Perhaps he is trying to distance himself from the Waylon Jennings comparisons. Maybe he simply needed to expand and explore uncharted sonic ground. Either way, Simpson never relents on the fundamental factors which make him a brilliant singer and songwriter.
9. Tom Hart's Rosalie Lightning
Rosalie Lightning is precisely what I want from a novel, graphic or otherwise. You will not find any grandiose stoking of the emotional bonfire, spiraling into plumes of clichés. This is a tempered, yet no less heart-wrenching, reaction to an unimaginable tragedy. Hart does an amazing job of approaching the subject matter with a poise that is once tender and full of the rage that only a parent who has lost a child can experience. His artwork is uniquely personal, just understated enough to know I am in the hands of an author who has put in the time… personally and professionally.
10. Dancing in the Street sans music
Just watch the fucking thing. You're welcome.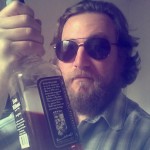 Alex Schumacher has toiled away in the relative obscurity of minimum-wage jobs and underground comics longer than he cares to admit. Currently he produces the weekly illustrated feature Decades of (in)Experience for Antix Press, the bi-weekly column Bread Crumbs from the Void for Five 2 One Magazine, and the monthly comic strip Mr. Butterchips for Drunk Monkeys. His comics and stories have been published by the likes of Arcana Studios, Cultured Vultures, The Round-Up Writer's 'Zine, and Hobo Camp Review. More info can be found on his site https://alexschumacherart.com/.